Call 860-923-9575Call 860-923-9575

Call us a 860-923-9575 and speak to a real person to get pricing, place an order or get more information about our products.


Vixen is a leading global manufacturer of Vapor Blast (wetblast) equipment. Within the price range of $20K to $30K, Vixen is a Premium quality production wet blast machine that delivers the excellent value and long life required by shops for heavy duty applications.
BCS Company has Vixen Wet Blasters in stock for immediate shipment
Call Us to talk to one of our tech reps. We can arrange a demo for you in Thompson CT using your own parts.

Vapor blasting, also known as wet blasting or liquid honing, is rapidly becoming the number one choice for applications requiring the highest quality of surface finish.
Vixen's Aquablast range of wet blasting machines uses the vapor blasting process to simultaneously degrease and blast industrial components, of many different shapes and sizes.
The key to vapor blasting is that the finish is produced through the flow of water borne abrasive, giving a finer finish due to the flushing action of the water. No media is impregnated into the component, nor is there any dust created by the break-up of media, unlike dry blasting where the finish is produced by sheer force of media impact. This means this method is completely dust-free which is ideal for any workshop environment. The water acts as a lubricant, avoiding media impregnation and also extending the life of the blast media. The dust-free process cleans by flow, and not impact, producing a 'soft' finish.
o The water/media slurry is contained within the wet blasting cabinet sump
o Delivery of the slurry to the manual blast nozzle is via a glandless polyurethane pump and associated hoses located inside the wet blasting machine.
o Compressed air is added at the blast nozzle to accelerate the slurry and create the cleaning effect.
o After contact with the component, the slurry then drains back into the sump creating a re-circulating system.
o Fine broken down media and other contaminants are fed via an overflow to a sedimentation filter located at the rear of the wet blasting machine.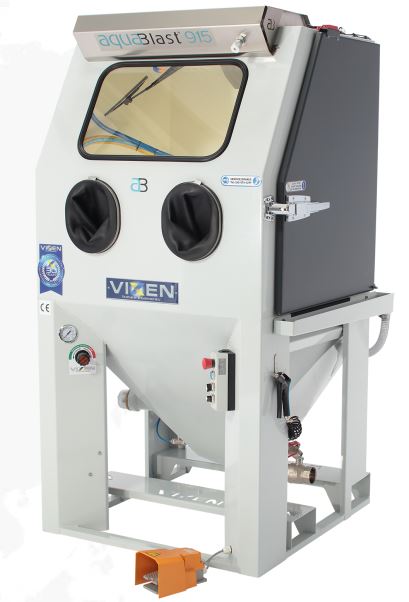 Aquablast® 915
This compact model is suitable for any workshop environment to process small parts.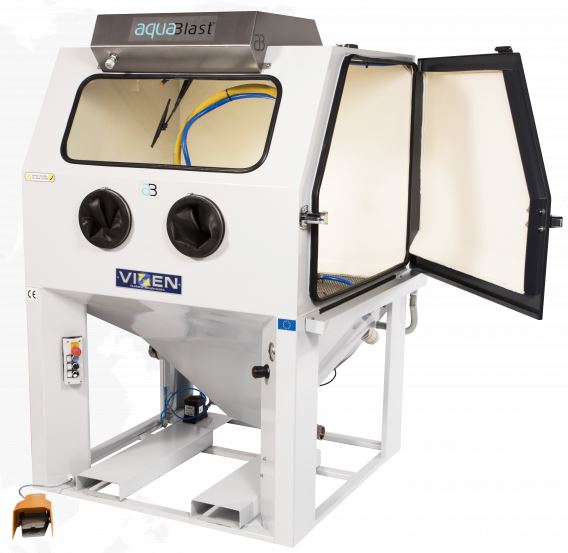 Aquablast® 1215
The second largest standard wet blasting models. It is suitable for larger parts with a maximum turntable of 39-1/4 inches.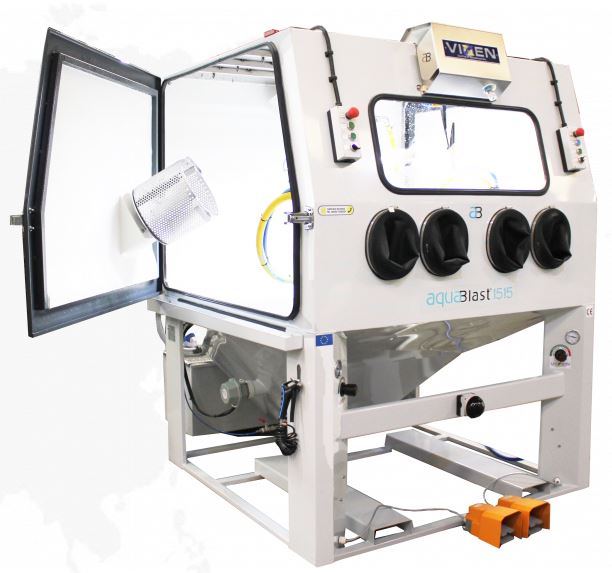 Aquablast® 1515
The largest wet blasting models. It is more suitable for degreasing and blasting larger components with a maximum turntable of 39-1/4 inches. This machine can also be fitted with many optional extras for two-person operation including fitted tumbler barrels, double foot pedals and much more.