United Abrasives/SAIT Stock Products
Call 860-923-9575Call 860-923-9575

Call us a 860-923-9575 and speak to a real person to get pricing, place an order or get more information about our products.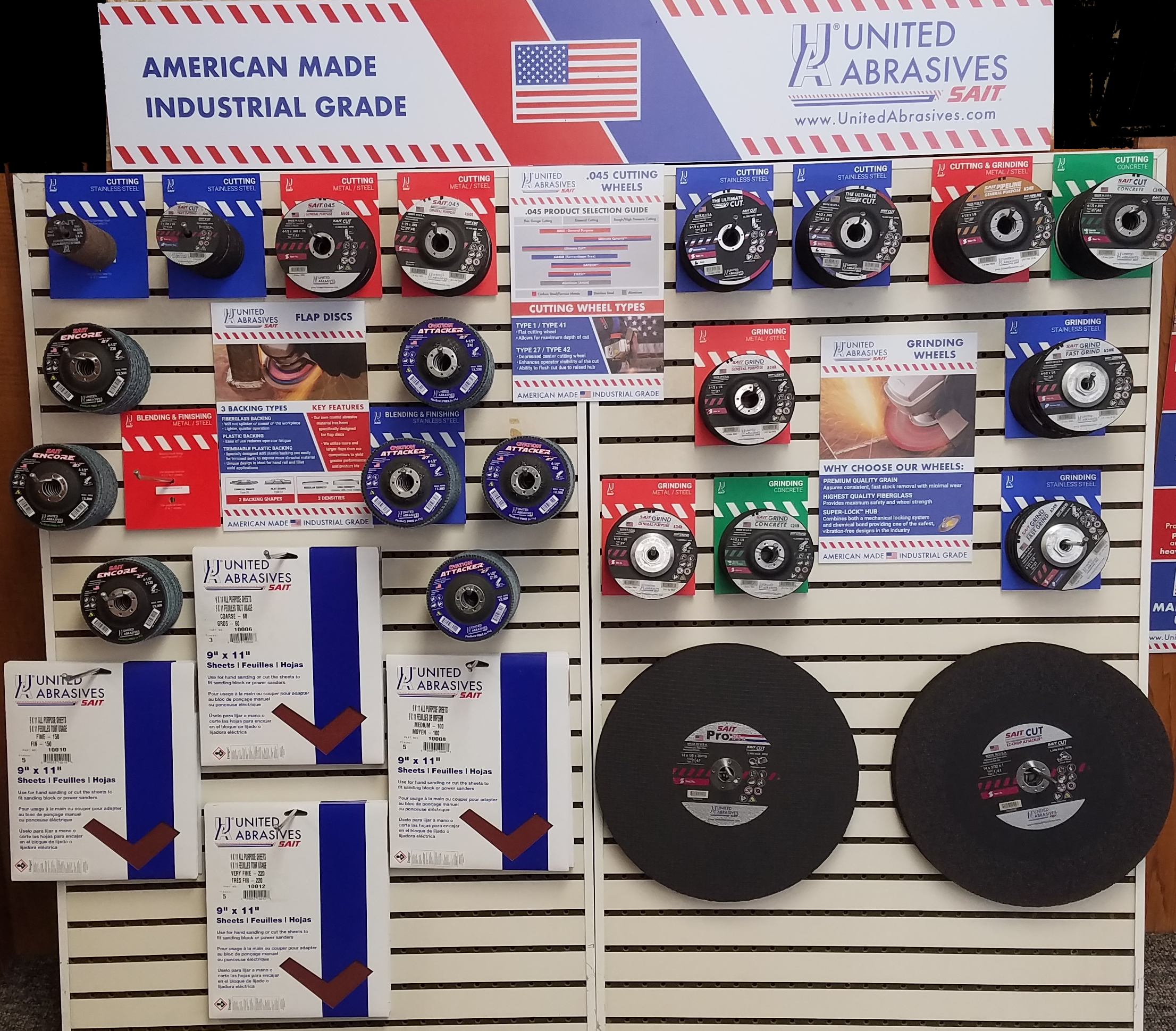 United Abrasive/SAIT products are:
o Longer Lasting - UA/SAIT uses only premium grains with durable adhesives that continue to perform over time
o Highest Quality - UA/SAIT uses only premium heavy duty fiberglass reinforcement

o Safer - Manufactured using state-of-the-art equipment and quality control and compliance

o Made in the USA - in Connecticut and Florida

Save on shipping and come to Thompson CT and pick up your Grinding Wheels, Cutting Wheels, Flap Discs, Fiber Discs, Sandpaper Sheets, etc.
If you want your items shipped to you from Thompson CT, Click HERE to Visit our eBay store
Remember...if we don't have it in stock, we can have it shipped direct to you from United Abrasives/SAIT.
In-Stock Wheels for Grinding, Cutting, Pipeline and General Purpose (prices f.o.b Thompson CT)

| | | | | | | | | | | | |
| --- | --- | --- | --- | --- | --- | --- | --- | --- | --- | --- | --- |
| UA/SAIT Part# | BCS Part# | Use on | Wheel Size | Mounting | Hub Type | *Description | Use | Price/Each | Price/Each(Box Lot) | Qty/Box | Price/Box |
| 20060 | 161-20060-UA | Metal/Stainless | 4-1/2x1/4 | 7/8 Arbor | Type 27 | A24N Fast Grind 30° | Grinding | $2.32 | $2.01 | 25 | $50.25 |
| 20160 | 161-20160-UA | Metal/Stainless | 4-1/2x1/4 | 5/8-11 Hub | Type 27 | A24N Fast Grind 30° | Grinding | $4.12 | $3.57 | 10 | $35.70 |
| 20063 | 161-20063-UA | Metal | 4-1/2x1/4 | 7/8 Arbor | Type 27 | A24R Long Life 30° | Grinding | $2.32 | $2.01 | 25 | $50.25 |
| 20163 | 161-20163-UA | Metal | 4-1/2x1/4 | 5/8-11 Hub | Type 27 | A24R Long Life 30° | Grinding | $4.12 | $3.57 | 10 | $35.70 |
| 20061 | 161-20061-UA | Concrete/Metal | 4-1/2x1/4 | 7/8 Arbor | Type 27 | C24N Concrete 30° | Grinding | $2.35 | $2.04 | 25 | $51.00 |
| 22021 | 161-22021-UA | Metal | 4-1/2x.045 | 7/8 Arbor | Type 27 | A60S GP 90° | Cutting | $2.85 | $2.47 | 50 | $123.50 |
| 23101 | 161-23101-UA | Metal | 4-1/2x.045 | 7/8 Arbor | Type 1 | A60S GP 90° | Cutting | $2.60 | $2.25 | 50 | $112.50 |
| 22025 | 161-22025-UA | Concrete/Metal | 4-1/2x3/32 | 7/8 Arbor | Type 27 | C24R Concrete 90° | Cutting | $2.32 | $2.01 | 25 | $50.25 |
| 22030 | 161-22030-UA | Metal | 4-1/2x1/8 | 7/8 Arbor | Type 27 | A24R Pipeline 30/90° | Cut/Grind | $2.35 | $2.04 | 25 | $51.00 |
| 22230 | 161-22230-UA | Metal/SS/Alum | 4-1/2x.045 | 7/8 Arbor | Type 1 | Ultimate Cut 90° | Cutting | $3.26 | $2.83 | 50 | $141.50 |
| 22380 | 161-22380-UA | Metal/SS/Alum | 4-1/2x.045 | 7/8 Arbor | Type 27 | Ultimate Cut 90° | Cutting | $3.62 | $3.13 | 50 | $156.50 |
| 24500 | 161-24500-UA | Metal | 14x3/32 | 1in Arbor | Type 1 | EZ-Chop Attacker | Chop Saw | $8.00 | $6.93 | 10 | $69.30 |
| 24140 | 161-24140-UA | Metal | 14x1/8 | 20mm Arbor | Type 1 | SAIT Pro | Portable Saw | $8.72 | $7.56 | 10 | $75.60 |
| 23050 | 161-23050-UA | Metal/Stainless | 3x.035 | 3/8 Arbor | Type 1 | A36T Fast Cut | Cutting | $1.97 | $1.71 | 100 | $171.00 |
| 23010 | 161-23010-UA | Metal/Stainless | 2x.035 | 3/8 Arbor | Type 1 | A37T Fast Cut | Cutting | $1.77 | $1.53 | 100 | $153.00 |
*Standard Marking System

| | |
| --- | --- |
| Designation | Description |
| A24N | Fast Grinding, Aluminum Oxide Grain, Soft bond for fast stock removal |
| A24R | Long Life, Aluminum Oxide Grain, Hard bond for general purpose grinding |
| C24N | Fast Stock Removal, Silicon Carbide Grain, Soft bond for fast stock removal |
| A60S | Exceptional Performance, Aluminum Oxide Grain, Hard bond |
| C24R | Excellent for Concrete, Masonry, Stone, Silicon Carbide Grain, Hard bond |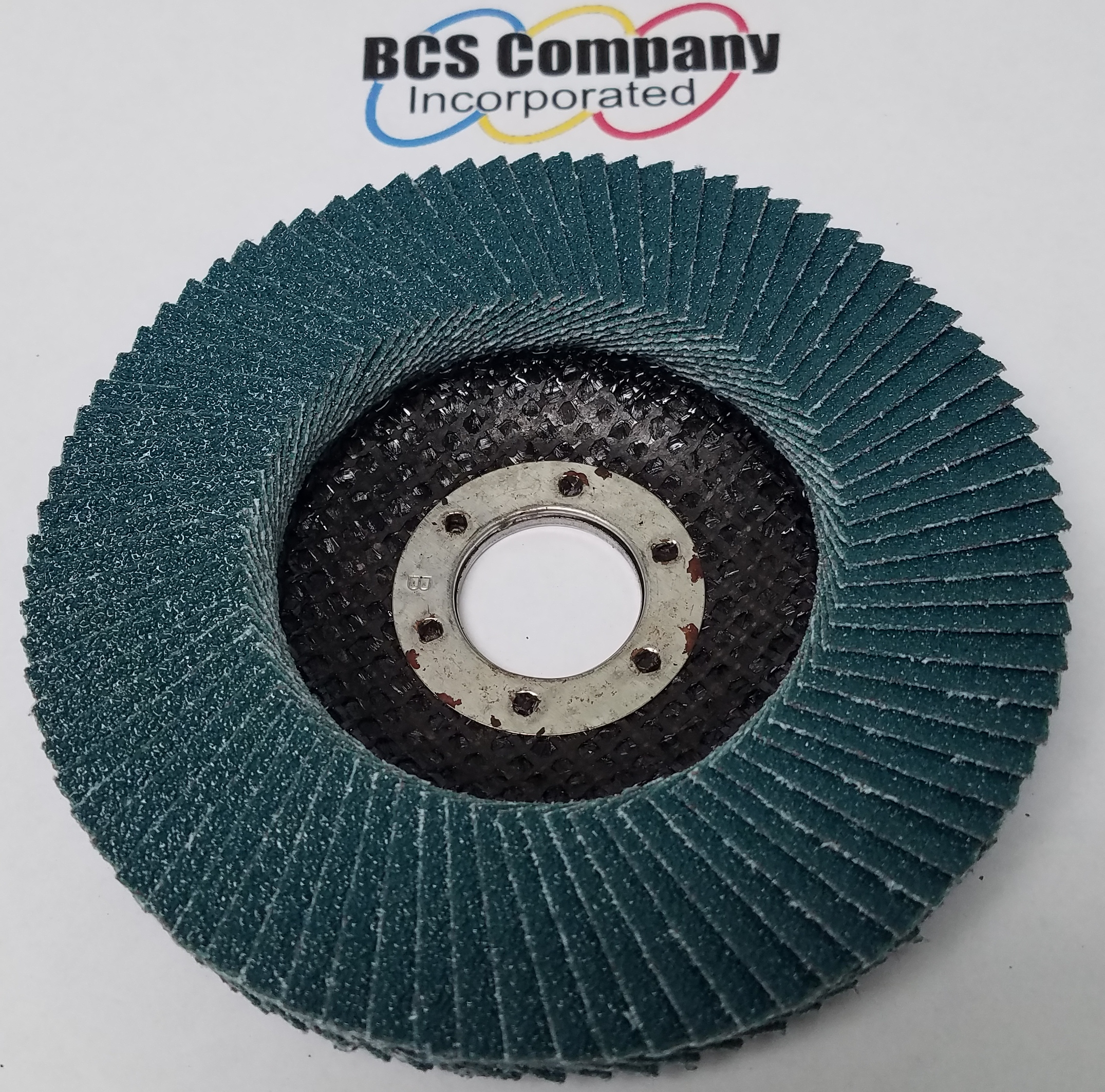 In-Stock Flap Discs for Grinding & Finishing
(prices f.o.b Thompson CT)
| | | | | | | | | | | |
| --- | --- | --- | --- | --- | --- | --- | --- | --- | --- | --- |
| UA/SAIT Part# | BCS Part# | Use on | Wheel Size | Mounting | Hub Type | Description | Price/Each | Price/Each(Box Lot) | Qty/Box | Price/Box |
| 71205 | 161-71205-UA | Metal/SS/Alum | 4-1/2 Z36 | 7/8 Arbor | Type 27 | Zirconium Encore 36 Grit | $5.00 | $4.33 | 10 | $43.30 |
| 71208 | 161-71208-UA | Metal/SS/Alum | 4-1/2 Z60 | 7/8 Arbor | Type 27 | Zirconium Encore 60 Grit | $5.00 | $4.33 | 10 | $43.30 |
| 71209 | 161-71209-UA | Metal/SS/Alum | 4-1/2 Z80 | 7/8 Arbor | Type 27 | Zirconium Encore 80 Grit | $5.00 | $4.33 | 10 | $43.30 |
| 71211 | 161-71211-UA | Metal/SS/Alum | 4-1/2 Z120 | 7/8 Arbor | Type 27 | Zirconium Encore 120 Grit | $5.00 | $4.33 | 10 | $43.30 |
| 76206 | 161-76206-UA | Metal/SS/Alum | 4-1/2 Z40 | 7/8 Arbor | Type 27 | Zirconium Ovation 40 Grit | $8.05 | $6.97 | 10 | $69.70 |
| 76208 | 161-76208-UA | Metal/SS/Alum | 4-1/2 Z60 | 7/8 Arbor | Type 27 | Zirconium Ovation 60 Grit | $8.05 | $6.97 | 10 | $69.70 |
| 76209 | 161-76209-UA | Metal/SS/Alum | 4-1/2 Z80 | 7/8 Arbor | Type 27 | Zirconium Ovation 80 Grit | $8.05 | $6.97 | 10 | $69.70 |
| 76211 | 161-76211-UA | Metal/SS/Alum | 4-1/2 Z120 | 7/8 Arbor | Type 27 | Zirconium Ovation 120 Grit | $8.05 | $6.97 | 10 | $69.70 |
In-Stock Fiber Discs for Stock Removal (prices f.o.b Thompson CT)

| | | | | | | | | | |
| --- | --- | --- | --- | --- | --- | --- | --- | --- | --- |
| UA/SAIT Part# | BCS Part# | Use on | Wheel Size | Mounting | Description | Price/Each | Price/Each(Box Lot) | Qty/Box | Price/Box |
| 69226 | 161-69226-UA | Metal/SS/Alum | 4-1/2 36X | 7/8 Arbor | AZ-X Zirconium 36 Grit | n/a | $1.56 | 100 | $156.00 |
| 69260 | 161-69260-UA | Metal/SS/Alum | 4-1/2 60X | 7/8 Arbor | AZ-X Zirconium 60 Grit | n/a | $1.33 | 100 | $133.00 |
| 69280 | 161-69280-UA | Metal/SS/Alum | 4-1/2 80X | 7/8 Arbor | AZ-X Zirconium 80 Grit | n/a | $1.28 | 100 | $128.00 |
| 95110 | 161-95110-UA | Fiber Discs | 4-1/2 | 5/8 Arbor | Spiralcool Hard Backing Pad | $33.44 | $33.44 | 1 | $33.44 |
In-Stock Sandpaper Sheets (prices f.o.b Thompson CT)

| | | | | | | | | | |
| --- | --- | --- | --- | --- | --- | --- | --- | --- | --- |
| UA/SAIT Part# | BCS Part# | Use on | Size | Grit | Description | Price/Pack | Price/Pack(Box Lot) | Qty/Box | Price/Box |
| 10006 | 161-10006-UA | Metal/Wood | 9x11 | 60 | Coarse All Purpose Aluminum Oxide Sheet (3 Sheet Pack) | $3.66 | $3.17 | 5 | $15.85 |
| 10008 | 161-10008-UA | Metal/Wood | 9x11 | 100 | Medium All Purpose Aluminum Oxide Sheet (5 Sheet Pack) | $3.91 | $3.39 | 5 | $16.95 |
| 10010 | 161-10010-UA | Metal/Wood | 9x11 | 150 | Fine All Purpose Aluminum Oxide Sheet (5 Sheet Pack) | $4.05 | $3.51 | 5 | $17.55 |
| 10012 | 161-10012-UA | Metal/Wood | 9x11 | 220 | Very Fine All Purpose Aluminum Oxide Sheet (5 Sheet Pack) | $4.05 | $3.51 | 5 | $17.55 |