Abrasive Supplies from United Abrasives/SAIT
Call 860-923-9575Call 860-923-9575

Call us a 860-923-9575 and speak to a real person to get pricing, place an order or get more information about our products.

BCS Company now stocks many sizes and types of UA/Sait Abrasive Products. Click HERE to see what we stock.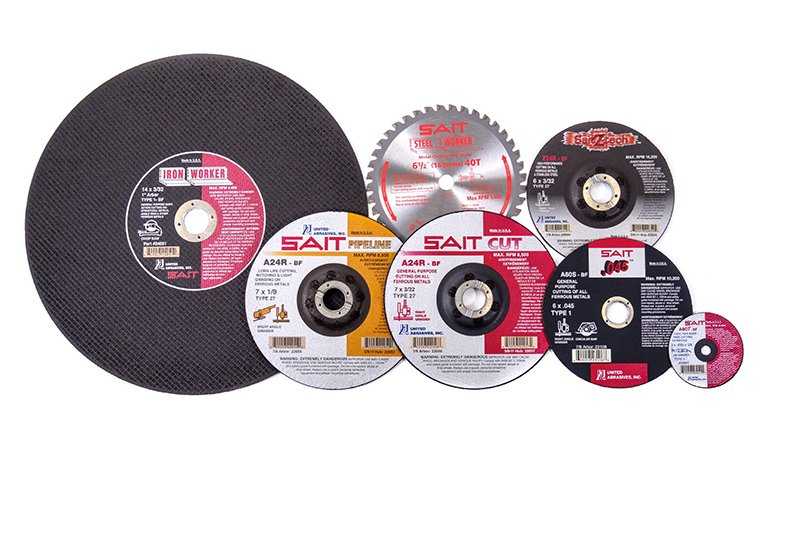 United Abrasives/SAIT is synonymous with quality, reliability, innovation and value. They are a leader in the abrasives industry with products that set new standards of excellence. United Abrasives are dedicated to continually testing, designing and improving their products to ensure quality and maximum function. They are the clear choice for professionals who value safe, quality, durable abrasives.
Abrasive Products from United Abrasives/SAIT

United Abrasives/SAIT products are known worldwide for quality, consistency and safety. They use premium materials, demanding consistent manufacturing operations and adhering to the most rigorous quality control testing in the industry.
| | |
| --- | --- |
| | Grinding Wheels Remove more stock with less wear than when you use cut-rate wheels. AvaiIable in 1/4 inch Grinding Wheels, Flexible Grinding/Blending Wheels, 1/8 inch Pipeline Wheels, Cup Stones, Mounted Points, Cones & Plugs, Bench Wheels, Hand & Floor Rubs and Cotton Fiber: Wheels, Points, Finishing Discs and Deburring Wheels. |
| | Cutting Wheels Their higher quality, industrial grade cutting wheels last longer and cut more efficiently than other wheels on the market. Offered in .045 inch Cutting Wheels, .090 inch Cutting and Notching Wheels, .095 inch Ultimate Combo Wheels, 3/32 and 1/8 inch High Speed Cut-off Wheels, Chop Saw Wheels, Diamond and Carbide Wheels and Portable Saw Cut-off Wheels. |
| | Coated Abrasives United Abrasives/SAIT coated abrasives are always made with premium materials so that you have the durability and efficiency you need to get the job done for a vast range of applications. Available in Abrasive Discs, Abrasive Sheets and Rolls, Coated Abrasive Belts and Flap Discs and Wheels. |
| | Non-Woven United Abrasives/SAIT offers a full line of high quality non-woven abrasives including Convolute and Unitized Wheels, Flap Brushes and Wheels, Hand Pads, Non-woven Belts, Non-Woven Discs and Sait-Striptm Products. |
| | Brushes and Burrs United Abrasives/SAIT supply a variety of wire brushes for various applications, along with carbide burrs for grinding, shaping, deburring and weld bead removal. |